Worship at First Presbyterian Church is our faith journey glue. Through worship, God pardons sin, restores relationships and changes lives. In worship we gather to meet God and then scatter to share with others what God has given us. 
Our Sunday Schedule
(September-May)
8:30 am Sunday School (3yrs to adult)
9:30 am Fellowship Time
10:00 am Worship (Year Round)
Worship
What to expect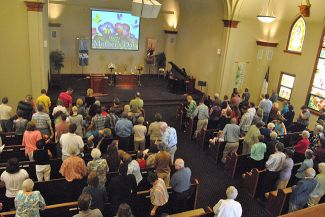 Our service incorporates contemporary praise songs and traditional hymns; uses a variety of readings and prayers; and offers Bible-based sermons.  On the first Sunday of the month we celebrate our Lord's Supper (communion) alternating monthly between coming to the front of the sanctuary to receive the bread and cup and remaining in the pews where we serve one another.   Each Sunday the children come forward for a special message from the pastor just for them. Baptisms are by request. Come early and enjoy a time of food and fellowship!